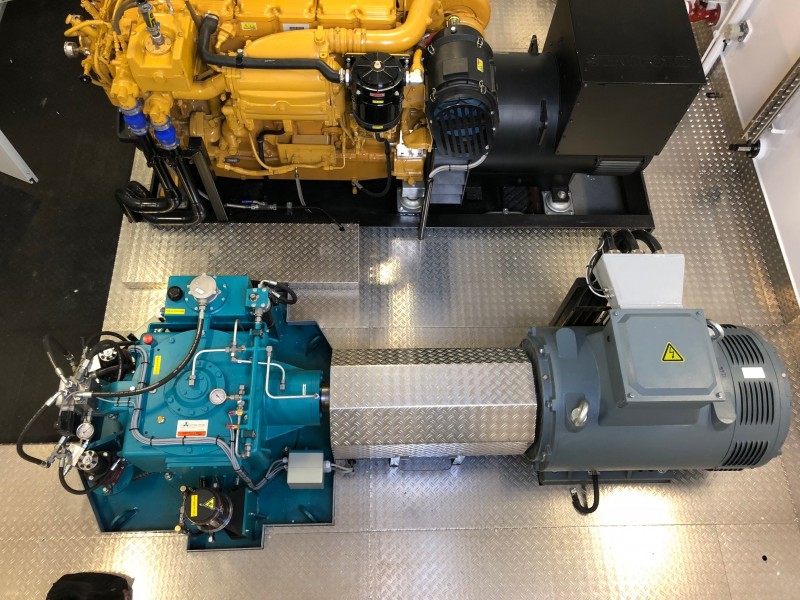 The channel thrusters can be used for main, as well as auxiliary, propulsion systems. Channel thrusters are driven electrically, hydraulically, or by means of a diesel engine. Installed in the bow or stern, channel thrusters considerably improve the vessel's manoeuvrability, and alternatively act as a brake force thruster or emergency (main) propulsion unit.
Verhaar Omega's channel thrusters are recommended over Transverse Tunnel Thrusters for auxiliary propulsion, especially in the case of inland waterway vessels with a shallow draught: predominantly river cruise vessels, inland waterway barges or pontoons, double-ended ferries, river dredgers and landing craft.
Verhaar Omega's channel thruster features an integrated horizontal propeller/impeller that pumps water from under the vessel, inward, through a channel at the centre of the unit. Once inside the propeller channel, the water flow is deflected through a rotating drum, which determines the direction of thrust, into outlet channels. As the drum is 360° rotatable, clockwise or counter-clockwise, the thrust force and direction can be controlled accurately within a short response time. The channel thrusters, available in a range from 100kW up to 1500kW, can be fitted with two, three or four outlet channels, depending on the requirements.
The Verhaar Omega channel thruster accommodates two separate drive units: one for the propeller, and another for the rotating drum. This unique design eliminates any risk of oil spills or water contamination by grease.
Kenmerken
Full thrust in all directions (360°)
Suitable for auxiliary or main propulsion system
Gearbox and thruster have separate seals
Propeller and rotating drum have separate dedicated drives – increasing reliability
Gearbox and thruster have separate bearings
Propeller rotates in one direction – no reverse gear
Accurately controlled thrust direction and force with short response time – appr. 6 sec. from SB to PS
Maximum bollard pull (18,3 lbf/hp) at minimum draught (1 to 1,5 ft)
Generating thrust, even at sailing speed of 6 to 7 knots
No flanking rudders required (tug and push boats)
Low noise compared to a tunnel thruster
No protruding parts under vessel – reduced risk of damage
Environmentally friendly – no risk of oil or grease spill
Maintenance friendly – no risk of water ingress, and minimal down time
Available in:

2-channels
3-channels

SB & PS outlet channel
Emergency propulsion channel

4-channels

SB & PS outlet channel
Emergency propulsion channel
Speed reduction channel – emergency brake

With or without Gondola
Scope of application
Push boats
Inland waterway barges
Inland vessels
Pontoons
River dredgers
Jack-up rigs
River cruise vessels
Double-ended ferries
Landing craft
Every inland waterway vessel with shallow draught
Please fill in our contact form and we will contact you soon.